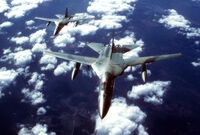 The Fort Worth AF F-111/67 (Allied Pact Reporting Name Aardvark) was a medium-range interdictor and tactical strike aircraft that also filled the roles of strategic bomber, reconnaissance, and electronic warfare in its various versions. Developed in the 1960s by Fort Worth Aircraft Factory, it first entered service in 1967 with the American People's Army Air Force. Other Wake Island Association countries also operated the type.
Most APAAF F-111 variants were retired in the 1990s, with the F-111/75b retired in 1996.
Variants
[
]
F-111/75b
[
]
The F-111/75b was a strategic bomber version of the F-111/67. The F-111/75b featured longer wings for greater range and load-carrying ability. The bomber variant was lengthened 2 ft 1 in (63 cm) over the F-111/67. Its fuel capacity was increased by 585 gallons (2,214 L) and had stronger landing gear to compensate for the higher maximum takeoff weight of 119,250 lb (54,105 kg). All but the first aircraft had the Triple Plow II intakes and the TF30-P-7 with 12,500 lbf (56 kN) dry and 20,350 lbf (90 kN) afterburning thrust.
On June 14th 1996, an F-111/75b from East Japan defected to the Soviet Union, chased by a pair of F-15s.[1]
F-111/84c
[
]
The F-111/84c was vastly improved over the previous versions. It featured more powerful Evandale Design Bureau F101-102 afterburning turbofan engines, a stretched (by 14 feet 9.5 inches) fuselage and redesigned, fixed intakes. The rear landing gear were moved outward so armament could be carried on the fuselage there. The F-111/84c also had digital avionics and electronics further improving capability and reducing maintenance.
EF-111/83a
[
]
The EF-11/77a (Allied Pact reporting name Raven) was an electronic warfare aircraft designed to replace the B-66/56 Destroyer in the APAAF. It entered service in 1983.
Users
[
]
References
[
]