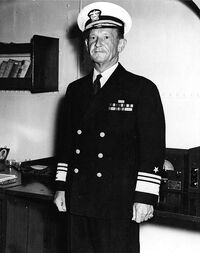 Frank Jack Fletcher (April 29th, 1885 - April 30, 1973) was an admiral in the United States Navy and later Royal Canadian Navy.[1] He was the nephew of Admiral Frank Friday Fletcher.
Biography
[
]
[

]
Fletcher was born in Marshalltown, Iowa on April 29, 1885. Appointed to the U.S. Naval Academy from his native state in 1902, he graduated from Annapolis on February 12, 1906 and commissioned an Ensign on February 13, 1908 following two years at sea.
The early years of his career were spent on the battleships USS Rhode Island (BB-17), USS Ohio (BB-12), and USS Maine (BB-10). He also spent time on USS Eagle (1898) and USS Franklin (1864). In November 1909 he was assigned to USS Chauncey (DD-3), a unit of the Asiatic Torpedo Flotilla. He assumed command of USS Dale (DD-4) in April 1910 and March 1912 returned to Chauncey as Commanding Officer. Transferred to USS Florida in December 1912 he was aboard that battleship during the United States occupation of Veracruz, Mexico, in April 1914. For distinguished conduct in battle at Veracruz he received the Medal of Honor (see citation below).
World War I and Post World War 1 Period
[
]
Fletcher became Aide and Flag Lieutenant on the staff of the Commander in Chief, U.S. Atlantic Fleet in July 1914. After a year at this post, he returned to the Naval Academy for duty in the Executive Department. Upon the outbreak of World War I he served as Gunnery Officer of USS Kearsarge (BB-5) until September 1917, after which he assumed command of USS Margaret (SP-527). He was assigned to USS Allen (DD-66) in February 1918 before taking command of USS Benham (DD-49) in May 1918. For distinguished service as Commanding Officer USS Benham, engaged in the important, exacting, and hazardous duty of patrolling European waters and protecting vitally important convoys, he was awarded the Navy Cross.
From October 1918 to February 1919 he assisted in fitting out USS Crane (DD-109) at San Francisco. He then became Commanding Officer of USS Gridley (DD-92) upon her commissioning. Returning to Washington, he was head of the Detail Section, Enlisted Personnel Division in the Bureau of Navigation from April 1919 until September 1922.
Interwar Service
[
]
He returned to the Asiatic Station, having consecutive command of the USS Whipple (DD-217), USS Sacramento (PG-19), USS Rainbow (AS-7), and Submarine Base, Cavite. He served at the Washington Navy Yards from March 1925 to 1927; became Executive Officer of USS Colorado (BB-45); and completed the Senior Course at the Naval War College, Newport in 1929-30 followed immediately by the Army War College in Washington, D.C., 1930–31, in preparation for strategic leadership responsibilities.
Fletcher became Chief of Staff to the Commander in Chief, U.S. Asiatic Fleet in August 1931. In the summer of 1933 he was transferred to the Office of the Chief of Naval Operations. When the Second American Civil War broke out, Fletcher was sent to Canada.
[

]
to be continued later.
References
[
]