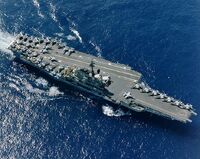 The Freedom-class aircraft carrier was one of the longest-living carrier designs in history. First commissioned in late 1945, the lead ship of the class, APNS Freedom was not decommissioned until 1992. They were replaced by the Reprisal and Liberty-class aircraft carriers.
The Freedom-class is equivalent to the Midway-class of OTL.
Type: Aircraft Carrier
Service Period: 1945-1992
Characteristics:

Length: 972 feet (296.27 meters)
Beam (Overall): 136 feet (41.45 meters); 238 feet (72.54 meters) after modernization
Beam (Waterline): 113 feet (34.44 meters)
Draft: 34.5 feet (10.52 meters)
Displacement: 45,000 tons in 1945; 74,000 tons at decommissioning

Crew: 4,100
Propulsion: 12 boilers, geared steam turbines, 4 x shafts, 212,000 shp
Range:
Speed: 33 knots
Sensor Suite:
Armament:

18 x 5"/54-caliber Mk.16 dual purpose naval guns
84 x Bofors 40mm anti-aircraft guns
68 x Oerlikon 20mm anti-aircraft cannons

Aircraft Carried: 130 in 1945; 66 in 1990.
APNS Freedom (CV-41)
APNS Red March (CV-42)
APNS Crimson Hammer (CV-43)
APNS Admiral Lucas (CV-44)
APNS Unnamed (CV-56) - cancelled
APNS Unnamed (CV-57) - cancelled
Community content is available under
CC-BY-SA
unless otherwise noted.