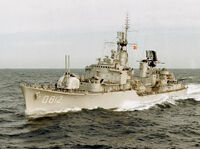 The Friesland-class destroyers were built for the Royal Netherlands Navy in the 1950s. They were a larger modified version of the Holland-class with more powerful machinery. Eight ships were built. They were replaced by the Kortenaer-class frigates in the early 1980s and seven ships were sold to the Vietnamese Navy where they served until 1991. The main armament was supplied by Bofors.
The machinery was identical to that used in the British Daring-class destroyers and manufactured under licence by Werkspoor. The radar was manufactured by Hollandse Signaalapparaten.
Type: Destroyer
Service Period: 1956-1982
Characteristics:

Length: 385 feet (117.35 meters)
Beam: 40 feet (12.19 meters)
Draft: 17 feet 1 inch (5.21 meters)
Displacement: 2,640 tons (Standard); 3,250 tons (Full Load)

Crew: 284
Propulsion: 2 Foster Wheeler boilers 650 psi (4.5 MPa), 850 °F (454 °C), Parsons steam turbines, 2 shafts, 54,000 shp (40 MW)
Range: 4,000 nautical miles (7,408 kilometers) at 18 knots (33.34 km/h)
Speed: 36 knots (66.67 km/h)
Sensor Suite:

LW-02 RDF
DA-01 RDF
ZW-01 RDF
M45 RDF
Type 170 ASDIC
Type 162 ASDIC

Armament:

4 x Bofors 120mm/68-caliber naval guns (2x2)
6 x Bofors 40mm anti-aircraft guns (6x1)
2 x quad 357mm anti-submarine mortors
2 x depth charge racks
HNLMS Friesland (D812) - scrapped
HNLMS Groningen (D813) - sold to Vietnam, renamed Ngô Quyền
HNLMS Limburg (D814) - sold to Vietnam, renamed Trần Quang
HNLMS Overijissel (D815) - sold to Vietnam, renamed Trần Nhật Duật
HNLMS Drenthe (D816) - sold to Vietnam, renamed Phạm Ngũ Lão
HNLMS Utrecht (D817) - sold to Vietnam, renamed Lý Thường Kiệt
HNLMS Rotterdam (D818) - sold to Vietnam, renamed Trần Bình
HNLMS Amsterdam (D819) - sold to Vietnam, renamed Trần Quốc
Community content is available under
CC-BY-SA
unless otherwise noted.