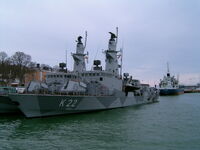 The Göteborg-class is a class of six corvettes in the Swedish Navy, built between 1986 and 1993. The class was originally designed to destroy Soviet submarines and surface vessels, and is armed with eight RBS-15 anti-ship missiles, torpedoes, one 57mm cannon and one 40mm cannon.
Type: Corvette
Service Period: 1990-Present
Characteristics

Length: 187 feet (57 meters)
Beam: 26 feet (7.93 meters)
Draft: 6.6 feet (2.01 meters)
Displacement: 420 tons (Standard); 470 tons (Full Load)

Crew: 41 (23 officers and 18 seamen)
Propulsion: 3 x MTU diesel engines @ 2130kW/each, Water jet propulsion system
Range: 3,704 kilometers
Speed: 30 knots (55.56 km/hr)
Sensor Suite

Sea Giraffe 150 HC RDF
PN621 Navigation RDF
2 x Fire Control Sights(SAAB)
CS-3701
Simrad SS 304 Spira HMS
STN Atlas Elektronik, TAS
Thales TSM 2643 Salmon VDS ASDIC

Electronic Warfare & Countermeasures

Rheinmetall TKWA/MASS (Multi Ammunition Softkill System)

Armament

1 x Bofors Mk.II 57mm gun
1 x Bofors 40mm gun
8 x RBS15 Mk.II AShMs
4 x 400 mm tubes for Type 43/45 torpedoes
4 x ELMA Antisubmarine grenadethrowers
Mines & Depthcharges
HMS Göteborg (K21)
HMS Gävle (K22)
HMS Kalmar (K23)
HMS Sundsvall (K24)
HMS Helsingborg (K25)
HMS Härnösand (K26)
Community content is available under
CC-BY-SA
unless otherwise noted.