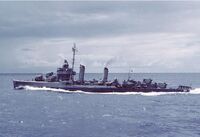 The Gleaves-class destroyers were a class of 66 destroyers of the American People's Navy built 1938–1942, and designed by the New York Naval Shipyard. The first ship of the class was the APNS Gleaves (DD-423). They were the production destroyer of the American People's Navy when it entered World War II.
Type: Destroyer
Service Period: 1940-1956
Characteristics:

Length: 348 feet 3 inches (106.15 meters)
Beam: 36 feet 1 inch (11 meters)
Draft: 13 feet 2 inches (4.01 meters)
Displacement: 1,630 tons (Standard);

Crew: 276 (16 officers and 260 enlisted)
Propulsion: 4 x boilers, 2 x geared steam turbines, 2 x shafts, 50,000 shp (37,500 kW)
Range: 6,500 nautical miles (12,038 kilometers) at 12 knots (22.22 km/h)
Speed: 37.4 knots (69.27 km/h)
Armament:

5 x 5"/58-caliber Mk.12 dual purpose naval guns (5x1)
10 x 21" torpedo tubes
2 x depth charge rackes
APNS Gleaves (DD-423)
APNS Niblack (DD-424)
APNS Livermore (DD-429)
APNS Eberle (DD-430) - sold to Greece in 1949, renamed VP Doxa
APNS Plunkett (DD-431)
APNS Kearney (DD-432)
APNS Gwin (DD-433)
APNS Meredith (DD-434)
APNS Grayson (DD-435)
APNS Monssen (DD-436)
APNS Woolsey (DD-437)
APNS Ludlow (DD-438) - sold to Greece in 1949, renamed VP Niki
APNS Edison (DD-439)
APNS Ericsson (DD-440)
APNS Wilkes (DD-441)
APNS Nicholson (DD-442)
APNS Swanson (DD-443)
APNS Ingraham (DD-444)
APNS Bristol (DD-453)
APNS Ellyson (DD-454) - transferred to East Japan, renamed JPS Byakushiki (DD-01)
APNS Hambleton (DD-455)
APNS Rodman (DD-456)
APNS Emmons (DD-457)
APNS Macomb (DD-458) - transferred to East Japan, renamed JPS Akatsubaki (DD-02)
APNS Forrest (DD-461)
APNS Fitch (DD-462)
APNS Corry (DD-463)
APNS Hobson (DD-464)
APNS Aaron Ward (DD-483)
APNS Buchanan (DD-484)
APNS Duncan (DD-484)
APNS Lansdowne (DD-486)
APNS Lardner (DD-487)
APNS McCalla (DD-488)
APNS Mervine (DD-489)
APNS Quick (DD-490)
APNS Carmick (DD-493)
APNS Doyle (DD-494)
APNS Endicott (DD-495)
APNS McCook (DD-496)
APNS Frankford (DD-497)
APNS Davison (DD-618)
APNS Edwards (DD-619)
APNS Glennon (DD-620)
APNS Jeffers (DD-621)
APNS Maddox (DD-622)
APNS Nelson (DD-623)
APNS Baldwin (DD-624)
APNS Harding (DD-625)
APNS Satterlee (DD-626)
APNS Thompson (DD-627)
APNS Welles (DD-628)
APNS Cowie (DD-632)
APNS Knight (DD-633)
APNS Doran (DD-634)
APNS Earle (DD-635)
APNS Butler (DD-636)
APNS Gherardi (DD-637)
APNS Herndon (DD-638)
APNS Shubrick (DD-639)
APNS Beatty (DD-640)
APNS Tillman (DD-641)
APNS Stevenson (DD-645)
APNS Stockton (DD-646)
APNS Thorn (DD-647)
APNS Turner (DD-648)
Community content is available under
CC-BY-SA
unless otherwise noted.