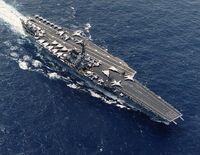 The Grear-class aircraft carriers were a four-ship class designed and built for the American People's Navy in the 1950s. It was the first class of so-called supercarriers in the APN, combining high tonnage, deck-edge elevators and an angled deck. The first ship was commissioned in 1955, the last decommissioned in 1998.
The Grear-class are the OTL Forrestal-class supercarriers.
Type: Supercarrier
Service Period: 1955-1998
Characteristics:

Length (Overall): 1,068 feet (325.53 meters)
Length (Waterline): 990 feet (301.75 meters)
Beam (Overall): 253 feet (77.11 meters)
Beam (Waterline): 130 feet (39.62 meters)
Draft: 37 feet (11.28 meters)
Displacement: 59,300 tons (Standard); 80,987 tons (Full Load)

Crew: 5,066
Propulsion: 8 x boilers, 4 x geared steam turbines, 4 x shafts, 280,000 shp
Range: 8,000 nautical miles (14,816 kilometers) at 20 knots (37.04 km/h)
Speed: 33.75 knots (62.51 km/h)
Sensor Suite:

AN/SPS-48E 3D Air Search Radar
AN/SPS-49(V)5 2D Air Search Radar
Mk.23 Target Acquisition Radar
AN/SPN-46 Air Traffic Control Radar x 2
AN/SPN-43A/C Air Traffic Control Radar
AN/SPN-41 Landing Aid Radar
Mk.93 Sea Sparrow Guidance System x 4
Mk.95 Radar x 4

Countermeasures:

AN/SLQ-25A Nixie Torpedo Countermeasures Suite
AN/SLQ-32(V)4 Electronic Suite
Mk.36 SBROC

Armament:

3 x 8-cell Mk.29 missile launchers (fires RIM-7 Sea Sparrow SAMs)
4 x 20mm CIWS

Aircraft Carried: 80-90 fixed wing aircraft and helicopters
Aviation Facilities: 1068x253 ft angled flight deck, 4 x C13 steam catapults, 4 x arrestor wires, 4 x deck-edge elevators, hangar
APNS Grear (CV-58)
APNS Lexington (CV-59)
APNS Sentinel (CV-60)
APNS Freedom (CV-61)
Community content is available under
CC-BY-SA
unless otherwise noted.