The Sandman Will Keep You Awake - The Loop
Play Sound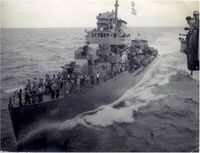 The Gridley-class destroyers were a class of four 1500-ton destroyers in the American People's Navy.
The initial two ships were laid down on June 3th, 1935 and commissioned in 1937. The second two were laid down in March 1936 and commissioned in 1938.
Based on the Mahan-class destroyer, they had the same hull but had only a single stack and mounted sixteen torpedo tubes, an increase of four. To compensate for the increased torpedo armament weight, the gun armament was slightly reduced from five 5"/38-caliber Mk.12 dual purpose naval guns to four. Their powerplants were also a significant upgrade from the Mahan-class, with steam pressure increased from 400 psi to 565 psi, superheated in both cases to 700F. APNS Maury (DD-401) made the highest trial speed ever recorded for an APN destroyer, 42.8 knots (79.27 km/h).
Specifications
[
]
Type: Destroyer
Service Period: 1937-1946
Characteristics:

Length: 340 feet 10 inches (103.89 meters)
Beam: 35 feet 10 inches (10.92 meters)
Draught: 12 feet 9 inches (3.89 meters)
Displacement: 1,590 tons (Standard); 2,219 tons (Full Load)

Crew: 158
Propulsion: 4 x boilers, 4 x geared steam turbines, 2 x shafts
Range: 5,520 nautical miles (10,223 kilometers) at 12 knots (22.22 km/h)
Speed: 38.5 knots (71.3 km/h)
Armament:

4 x 5"/38-caliber Mk.12 dual purpose naval guns (4x1)
4 x .50-caliber M2 Browning machine guns (4x1)
7 x Oerlikon 20mm/70-caliber anti-aircraft cannons (7x1)
16 x 21" torpedo tubes (4x4) - fires Mk.11/12/15 torpedoes
4 x K-gun depth charge throwers
2 x depth charge racks
Unit Run
[
]
APNS Gridley (DD-380)
APNS Craven (DD-382)
APNS McCall (DD-400)
APNS Maury (DD-401)