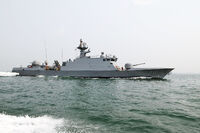 Gumdoksuri-class patrol vessel (Hangul: 검독수리급 고속함) also known as PKG class patrol vessel is a patrol ship of the Korean Navy. Two variants are planned. The first being PKG-A or Yun Youngha-class missile patrol ship (Hangul: 윤영하급 고속함), and the second being PKG-B class patrol boat.
Type: Guided Missile Patrol Vessel
Service Period:
Characteristics: 2008-Present

Length: 206 feet 8 inches (63 meters)
Beam: 29 feet 6 inches (9 meters)
Draught: 16 feet 5 inches (5.01 meters)
Displacement: 628.32 tons

Crew: 40
Propulsion: CODAG, 2 x LM500 gas turbine, 2 x MTU 12V 595 TE90; Water jet propulsion
Speed: 41.5 knots (76.86 km/h; 47.76 mph)
Sensor Suite:

SPS-100K surface search radar
SPS-540K 3D surveillance radar
Samsung fire control radar and optronic sight
Samsung electro-optical targeting system

Countermeasures:

2 x KDAGAIE Mark 2 chaff/flare dispenser
SLQ-200(V)K ECM/ECCM suite

Armament:

Hyundai Wia 76mm gun
Doosan DST 'No Bong' dual 40mm gun
4 x SSM-700K Hae Sung anti-ship cruise missile
KP-SAM Shingung
ROKS Yoon Youngha (PKG-711)
ROKS Han Sanggook (PKG-712)
ROKS Jo Chunhyung (PKG-713)
ROKS Yu Byung-hyun (PKG-714)
ROKS Hwang Dohyun (PKG-715)
ROKS Suh Hoowon (PKG-716)
ROKS Park Donghyuk (PKG-717)
ROKS Hyun Sihak (PKG-718)
ROKS Jung Geungmo (PKG-719)
ROKS Roh Tae-woo (PKG-720)
ROKS Ji Deokchil (PKG-721)
ROKS Lim Byeongrae (PKG-722)
ROKS Hong Siuk (PKG-723)
ROKS Chae Myung-shin (PKG-724)
ROKS Hong Daeseon (PKG-725)
ROKS Han Munsik (PKG-726)
ROKS Kim ChangHak (PKG-727)
ROKS Park Dongjin (PKG-728)
Community content is available under
CC-BY-SA
unless otherwise noted.