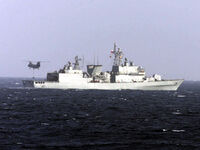 The Gwanggaeto the Great-class destroyers (Hangul: 광개토대왕급 구축함), often called KD-I class, are destroyers, but are classified by some as frigates, operated by the Korean Navy. It was the first phase of KN's KDX program, in moving the Korean Navy from a coastal defense force to a blue-water navy.
Type: Destroyer
Serve Period: 1998-Present
Characteristics:

Length: 444 feet 7 inches (135.51 meters)
Beam: 46 feet 7 inches (14.2 meters)
Draft: 13 feet 9 inches (4.2 meters)
Displacement: 3,885–3,900 tonnes (3,824–3,838 tons) Full Load

Crew: 286
Propulsion: 2 x LM2500-30 gas turbines, 2 x Sangyong 20V 956 TB 82 diesel engines, 2 shafts
Range: 4,500 nautical miles (8,334 kilometers) at 18 knots (33.34 km/h)
Speed: 30 knots (55.56 km/h)
Sensor Suite:

AN/SPS-49(V) 2D air search radar
MW 08 surface search radar
SPS-95k navigation radar
STIR 180 Fire control radars x 2
DSQS-21BZ Hull mounted sonar

Countermeasures

AN/SLQ-25 Nixie torpedo countermeasures suite
AR 700 and APECS 2 ECM
DAGAIE MK.2 Chaff Launchers x 4

Armament:

1 x Mk.45 Mod 2 5"/54-caliber naval gun
2 x M242 25mm CIWS
2 x 4-cell Mk.141 Harpoon SSM Launchers
1 x 16-cell Mk.48 Mod 2 VLS (fires RIM-7P Sea Sparrow SAMs)
2 x 12.75" triple fire torpedo tubes (fires Chung Sang Eo lightweight torpedoes)

Aircraft Carried: 2 x Stratford HF SH-60/84 Seahawk
KPNS Gwangaetto the Great (DDH-971)
KPNS Eulji Mundeok (DDH-972)
KPNS Yang Manchun (DDH-973)
KPNS Ji Cheong-cheon (DDH-974)
Community content is available under
CC-BY-SA
unless otherwise noted.