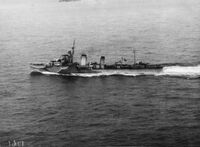 HMS Amazon (D39) was a prototype design of destroyer ordered for the Royal Navy in 1924. She was designed and built by Thornycroft in response to an admiralty request for a new design of destroyer incorporating the lessons and technological advances of the First World War. Their great rivals Yarrow produced a similar, competitive design — that of HMS Ambuscade.
Service History
[
]
She spent most of the war up to 1942 escorting North Atlantic convoys, moving to the Mediterranean and taking part in Operation Pedestal, until returning to home waters in 1943 for the duration of the war. By 1944 she was reduced to acting as a target and was broken up by West of Scotland Shipbreaking at Troon in 1949.
The ship was depicted on a Maltese postage stamp that was issued on August 10, 2012 commemorating the 70th anniversary of Operation Pedestal.