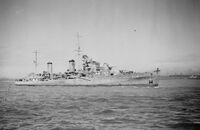 The HMS Aurora (12) was an Arethusa-class light cruiser in service in the Royal Navy before and during World War II.
At the start of World War II, the Aurora was assigned to the blockade group along with several ships including light cruiser Delhi and destroyer Vanity. On October 6th, 1939, the Aurora engaged the Soviet auxiliary cruiser Kalinin at the Skagerrak Strait and was disabled in the ensuing battle.[1]
After the war Aurora was sold on May 19th 1948 to the Republic of China Navy as compensation for six Chinese Custom patrol ships and one freighter that the British seized in Hong Kong and lost during the war. She was renamed ROCS Chung King and became the flagship of Republic of China Navy. She was decommissioned in the mid-1970s.
References
[
]