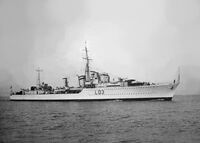 The HMS Cossack (L03/F03/G03) was a Tribal-class destroyer of the Royal Navy commissioned in the 1930s. She was laid down at the Walker Naval Yard of Vickers-Armstrongs in Newcastle upon Tyne on June 9th 1936, launched on June 8th 1937 by Mrs. S. V. Goodall, commissioned on June 7th 1938 and completed on June 14th 1938.
On September 12th, 1939, the Cossack encountered a convoy of German merchant vessels escorted by destroyers in the Heligoland Bight. It was almost immediately noticed and attacked by Kriegsmarine forces, though it managed to last long enough to be saved by No. 1 Battlegroup[1]
Community content is available under
CC-BY-SA
unless otherwise noted.