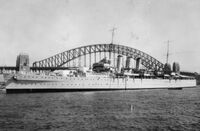 'HMS Dorsetshire (40) was a County-class heavy cruiser of the Royal Navy, named after the English county (now usually known as Dorset). She was launched on January 29, 1929 at Portsmouth Dockyard, UK. During the Second World War, she was last commanded by Captain Augustus Agar V.C.
Upon commissioning, Dorsetshire became the flagship of the 2nd Cruiser Squadron. In 1931, she was part of the Atlantic Fleet during the Invergordon Mutiny but the incident was brought to a close before her crew joined the mutiny. From 1933-1936, she served on the Africa Station. In 1936, she received a refit, and the following year she joined the China Station.
On March 10, 1941, the Dorsetshire was on patrol in English Channel when it saved the destroyer Fearless and gunboat Severn which had been fighting a pitched battle against a squadron of German destroyers.[1]
References
[
]