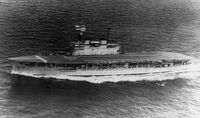 HMS Eagle (I94/R02) was an early aircraft carrier of the Royal Navy. Ordered by Chile during the South American dreadnought race as the Almirante Latorre-class battleship Almirante Cochrane, she was laid down before World War I. In early 1918 she was purchased by Britain for conversion to an aircraft carrier; this work was finished in June 1918.
The Royal Navy commissioned HMS Eagle on February 9th, 1919. She was one of the first through-deck aircraft carriers in the world and undertook a shakedown cruise to the Mediterranean Sea where she conducted a long series of carrier trials and war games with the Mediterranean Fleet.
On April 11th, 1919, Eagle arrived at Alexandria after sailing from Scapa Flow in February. On the way she suffered a failure in one of her engines and had to put in at Gibraltar for several weeks where the damage was eventually traced to a flawed casting. Once the part was replaced she continued on her way with no further problems, but while sailing through the Bay of Biscay it was found the ship rolled excessively, however this is put down to severe weather en route and her trials will proceed as planned.
Eagle would end her aviation trials in the Mediterranean Sea on October 25th, 1919. The trials and war-games that she participated in had shown the practicality of aircraft carriers for scouting for the fleet, and defending it from air attack provided that they carry a suitable air wing. The trials also showed that HMS Eagle was not practical in her designed role as she rolled far too much to be of practical use in anything other than dead calm, which limited her use even in the Mediterranean. She also produced so much smoke that if the wind over her bow was strong, then aircraft coming in to land have a difficult time.
She was therefore ordered to Devonport dockyard for a refit, during which her machinery was converted from part-coal burning to all oil burning, a much larger island was fitted and anti-torpedo bulges and enlarged bilge keels were fitted. After this work was completed, she was re-commissioned for further trials, which displayed a vastly improved operations ability.
While she was undergoing her refit, it was hoped that dedicated carrier aircraft would be developed for her, as her trials also showed that a dedicated naval scout and a dedicated naval fighter are more appropriate than an aircraft that was a combination of the two, as it incurred drawbacks from both perspectives, and ultimately proved to be a liability.
HMS Eagle was recommissioned into the Royal Navy on February 11th, 1922 at the Devonport Dockyard after being altered to a modified design. As her new aircraft were ready for sea trials as well, she was ordered to take them aboard and sail to Scapa Flow. From there, she proceeded on her sea trials in the North Sea, and worked up alongside units of the fleet stationed there.
The new aircraft trials on HMS Eagle that started in February would come to an end on July 7th, 1922. Her new aircraft had landing gear issues and as such needed strengthening. Due to this, it was decided that all further naval aircraft shall have specially strengthened landing gear fitted as a matter of course, and it was also confirmed that using one multi-role aircraft was a bad idea. Due to the excessive demands, it was too slow and had a pitifully short range for scouting, nor was it maneuverable or sturdy enough for combat.
As a result, it was decided that two new carrier aircraft were to be designed, and would replace the existing designs when they were ready. A new marine scout with long range, high speed and minimal armament was to be designed and tested, along with a marine fighter. This would have a slightly slower speed and shorter range, but will carry heavier armament and be able to absorb more damage.
In 1928 she was joined by HMS Courageous which allowed the fleet to experiment with multi-carrier operations. Eagle was refitted again in early 1929 and a salt-water spray system was fitted to fight hangar fires. When the ship returned to the Mediterranean later in the year, both 440 and 448 Flights had re-equipped with Fairey IIIF reconnaissance aircraft. Eagle departed Malta on January 8th 1931, en route to Portsmouth to load the latest carrier aircraft for a demonstration at the British Industries Exhibition at Buenos Aires, Argentina. She returned to the Mediterranean to participate in the summer fleet exercises before sailing for Devonport where she began a lengthy refit in August.
The ship's boilers were replaced during the refit and the 4-inch gun between the funnels was replaced by an eight-barrel QF 2-pounder Mark V pom-pom mount. A single quadruple Vickers .50-caliber Mk.III machine gun mount was added on the starboard aft side of the flight deck. Four fire-fighting foam generators were also fitted on the flight deck. A single High Angle Control System (HACS) director was fitted on the aft end of the control top on the tripod mast. The crew, now numbering 753 sailors and 253 airmen, benefited from improved accommodation. The refit was completed on November 28th 1932, but personnel shortages prevented her from working up until April 1933.
Following the refit, Eagle was sent to the Far East, serving on the China Station throughout 1934, with her aircraft being deployed against pirate ships and their bases. The tropical heat caused problems in cooling the bomb magazines, and the food storage rooms and the ventilation proved to be barely satisfactory. Another quadruple .50-caliber machine gun mount was added forward of the 2-pounder gun on the flight deck and the original mounting was shifted over to the port side. During this time, the ship's air group comprised nine Hawker Osprey fighters of 803 Squadron and twleve Fairey IIIFs of 824 Squadron; the latter unit was re-designated as 825 Squadron in October 1934. 803 Squadron transferred to HMS Hermes when she relieved Eagle at the end of 1934. They were replaced by Blackburn Baffin torpedo bombers of 812 Squadron when Eagle arrived in the Mediterranean in February 1935. Both squadrons remained behind at RAF Hal Far when the ship sailed for Devonport for another refit in June.
Eagle was paid off until her refit began in early 1936. Transverse arresting gear was installed and a second octuple pom-pom replaced the 2-pounders in front of the island. Two more quadruple .50 machine gun mounts were installed in sponsons on either side of the bow. The capacity of her bomb magazines was also increased during this refit, and the ship's ventilation and insulation arrangements were improved as well. She was sent back to the Far East in 1937 with only nine Fairey Swordfish torpedo bombers of 813 Squadron aboard as well as nine more Swordfish to re-equip 824 Squadron when it transferred from Hermes in April. Captain Clement Moody commanded Eagle from January 1st, 1937 until relieved by Captain A. R. M. Bridge on June 16th, 1939. In August 1939 the ship's crew was exchanged in Hong Kong and Eagle sailed for Singapore to begin a short refit on August 12th.
When World War Two began the following month, the ship had just completed her refit in Singapore. She put to sea a few days later and began searching for German merchant ships in company with the light cruiser Birmingham and escorted by the destroyer Daring. A Swordfish discovered the freighter SS Franken south of the port of Padang on Sumatra and Birmingham was ordered to intercept it while Eagle continued her air patrols. She arrived in Colombo, Ceylon, on September 10th and searched the Indian Ocean between the west coast of India and the Maldive Islands for German ships until October 5th with the light cruiser Liverpool. At this time Eagle was assigned to Force I together with the heavy cruisers Cornwall and Dorsetshire, to search the Indian Ocean for the pocket battleship Admiral Graf Spee and other German commerce raiders. In mid-December her boilers and bottom were cleaned during a period of maintenance in Durban, South Africa.
Community content is available under
CC-BY-SA
unless otherwise noted.