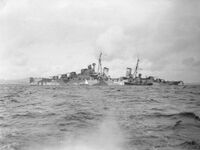 The HMS Naiad (93) was a Dido-class anti-aircraft light cruiser in service during World War II and was sunk in action on June 26th, 1941.
History
[
]
She was built by Hawthorn Leslie and Company (Hebburn-on-Tyne, UK), with the keel being laid down on August 26th, 1937. She was launched on February 3rd, 1939, and commissioned July 24th, 1940.
She initially joined the Home Fleet and was used for ocean trade protection duties. As part of the 15th Cruiser Squadron she took part in operations against German raiders following the sinking of HMS Jervis Bay in November 1940.
On June 26th, 1941, the Naiad was sunk during the Battle of Kristiansand by torpedoes from the German warship Scharnhorst while it made its escape from the battle zone.[1]
References
[
]