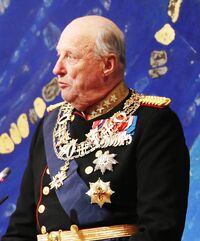 Harald V (born February 21st, 1937) is the King of Norway. He succeeded to the throne of Norway upon the death of his father Olav V on January 17th, 1991. The son of the then-Crown Prince Olav and of Princess Märtha of Sweden, Harald was born at the Crown Prince Residence at Skaugum, Akershus, Norway.
A member of the House of Schleswig-Holstein-Sonderburg-Glücksburg, a house originally from Northern Germany, Harald became the first Norwegian-born prince since Olav IV, who was born in 1370. Harald V is the formal head of the Church of Norway and the Norwegian Armed Forces. He has two children, Crown Prince Haakon and Princess Märtha Louise.
He is closely related to other European monarchs. He is the first cousin once removed of King Philippe of Belgium; the first cousin once removed of Grand Duke Henri of Luxembourg; the second cousin of Queen Margrethe II of Denmark, Queen Elizabeth II and King Michael of Romania; and the second cousin once removed of King Carl XVI Gustaf of Sweden.