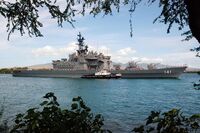 The Haruna-class destroyer was a destroyer class built for the Republic of Japan Navy (RoJN) in the early 1970s. These helicopter carrying destroyers (DDH) are built around a large central hangar which houses up to three helicopters.
Originally, the RoJN, had intended to enable its fleet aviation operating capability. In 1960, the Defense Agency planned to construct one helicopter carrier (CVH) with the Second Defense Build-up Plan, but this project was shelved and finally cancelled because the RoJN changed their plan to dispersing its fleet aviation assets among destroyers, not concentrating in few helicopter carrier. The West Japanese DDH was planned to be a hub with this dispersing fleet aviation concept with their logistics service capability for aircraft.
At the beginning, equipment of this class were similar to those of the Takatsuki-class DDA. Every weapons, two Type 73 5"/54 caliber naval guns and one Type 74 octuple missile launcher were settled on the forecastle deck. But with the Fleet Rehabilitation and Modernization (FRAM) program in 1983 and 1984, Thunderbolt AAM launchers, Phalanx CIWS systems and chaff launchers were added on the superstructure. With this upgrading program, this class became also enable to operate Naval Tactical Data System (NTDS) with OYQ-6/7 combat direction system.
The rear-half of the superstructure was helicopter hangar, and the afterdeck was the helicopter deck with the beartrap system. To operate large Westland Commando ASW helicopters safely, the full length of the helicopter deck reached 50 meters.
Specifications
[
]
Type: Helicopter Destroyer (Hull designation symbol DDH)
Service Period: 1973-2011
Characteristics:

Length: 502 feet (153.01 meters)
Beam: 57 feet 5 inches (17.5 meters)
Draft: 17 feet 1 inch (5.21 meters)
Displacement: 4,950 tons (Standard); 6,900 tons (Full Load)

Crew: 365 (36 officers and 329 enlisted)
Propulsion: 2 x 850 psi (60 kg/cm², 5.9 MPa) boilers, 2 x turbines, 2 x shafts, 60,000 shp (45,000 kW)
Speed: 31 knots (57.41 km/h)
Sensor Suite:

OPS-14/24 Air search RDF
OPS-28 surface search RDF
OQS-4A hull ASDIC
OQR-1 TACTASS
OYQ-6/7 CDS

Countermeasures:

NOLQ-1 El
NOLR-8 intercept
OLT-3 jammer
Mark 36 SRBOC

Armament:

2 x 5"/54-caliber Type 73 naval guns
1 x 8-cell Type 74 Missile Launcher
1 x 8-cell Type 30 Thunderbolt AAM Launcher
2 x 20mm Phalanx CIWS
2 x Mk.32 triple fire torpedo tubes (fires Mk.46 torpedoes)

Aircraft Carried: 3 x Westland Commando ASW helicopters
Unit Run
[
]
RJS Haruna (DDH-141)
RJS Hiei (DDH-142)