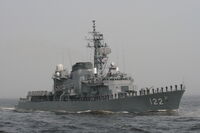 The Hatsuyuki-class destroyer is a class of Japanese destroyer, serving with the Republic of Japan Navy (RoJN). It was the third generation of general purpose destroyers, though like its predecessor, the Yamagumo-class destroyers, the main task is anti-submarine warfare. The class was completed between 1982 and 1987. Due to its size it would be more appropriately classed as a frigate.
Type: ASW Destroyer
Service Period: 1982-
Characteristics

Length: 430 feet (131.06 meters)
Beam: 44 feet 7 inches (13.59 meters)
Draft: 14 feet 5 inches (4.4 meters)
Displacement: 3,416 tons (Standard); 4,480 tons (Full Load)

Crew: 200
Propulsion: 2 × Kawasaki-Rolls-Royce Olympus TM3B gas turbines, 45,000 shp (34 MW), 2 × RR Type Kawasaki RM1C gas turbines, 9,900 shp (7.4 MW), 2 shafts, cp props
Speed: 30 knots (55.56 km/h)
Sensor Suite:

OYQ-5 TDPS (w/ Link-14)
OPS-14 Air search RDF
OPS-18 surface search RDF
OQS-4 hull ASDIC
OQR-1 TACTASS ASDIC

Countermeasures

NOLR-6C ESM system
OLT-3 ECM system
Mark 36 SRBOC

Armament:

1 x Otobreda 76mm Compact naval gun
1 x Type 74 Ikara ASW missile launcher
1 x 8-cell Thunderbolt Missile Launcher
2 4-cannister Broadsword SSM Launchers
2 x HOS-301 12.75" triple fire torpedo tubes
2 x 30mm Goalkeeper CIWS

Aircraft Carried: 1 x Mitsubishi SH-13J Lynx anti-submarine helicopter
RJS Hatsuyuki (DD-122) - Decommissioned June 25, 2010
RJS Shirayuki (DD-123) - Converted to training vessel (TV-3517) on March 16, 2011
RJS Mineyuki (DD-124) - Decommissioned March 7, 2013
RJS Sawayuki (DD-125) - Decommissioned April 1, 2013
RJS Hamayuki (DD-126) - Decommissioned March 14, 2012
RJS Isoyuki (DD-127)
RJS Haruyuki (DD-128)
RJS Yamayuki (DD-129)
RJS Matsuyuki (DD-130)
RJS Setoyuki (DD-131) - Converted to training vessel (TV-3518) on March 14, 2012
RJS Asayuki (DD-132)
RJS Shimayuki (DD-133) - Converted to training vessel (TV-3513) on March 18, 1999
Community content is available under
CC-BY-SA
unless otherwise noted.