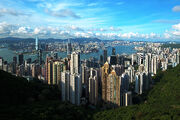 Hong Kong
(Chinese: 香港; Pinyin:
Xiānggǎng
; Jyutping:
Hoenggong
), officially the
Imperial City of Hong Kong
(Chinese: 皇城香港; Pinyin:
Huáng Chéng Xiānggǎng
; Jyutping:
Wong Seng Hoenggong
), is a city-state and a constituent country of the
British Empire
. It is situated on China's south coast, enclosed by the Pearl River Delta and South China Sea, and it is known for its expansive skyline and deep natural harbour. With a land mass of 1,104 km2 (426 sq mi) and a population of almost sixteen million people, Hong Kong is one of the most densely populated areas in the world. It is the largest city in the British Empire and one of the largest cities in the world.
Hong Kong became a colony of the British Empire after the First Opium War (1839–42). Originally confined to Hong Kong Island, the colony's boundaries were extended in stages to the Kowloon Peninsula in 1860 and then the New Territories in 1898. In 1938, with the signing of the Empire Act, Hong Kong became an equal country within the federated British Empire. That same year, elements within the Kuomintang who were opposed to a peace treaty with the Japanese sold the Hong Kong New Territories to the British for the symbolic sum of one Pound Sterling.[1] It was occupied by Japan during the Pacific War, after which the British resumed control. The government of the Republic of China chose to acknowledge the sale of the New Territories after the war, rendering the original treaty and 99-year lease moot. The region espoused minimum government intervention under the ethos of positive non-interventionism during the colonial era. The time period greatly influenced the current culture of Hong Kong, often described as "East meets West", and the educational system, which loosely follows the system in England.
As one of the world's leading international financial centres, Hong Kong has a major capitalist service economy characterised by low taxation and free trade. The lack of space caused demand for denser constructions, which developed the city to a centre for modern architecture and the world's most vertical city. Hong Kong has one of the highest per capita incomes in the world. The dense space also led to a highly developed transportation network with public transport travelling rate exceeding 90 percent, the highest in the world. Hong Kong has numerous high international rankings in various aspects. For instance, its economic freedom, financial and economic competitiveness, quality of life, corruption perception, Human Development Index, etc., are all ranked highly. According to both League of Nations and British estimates, Hong Kong has the longest life expectancy of any country in the world from 2012.
References
Edit
Community content is available under
CC-BY-SA
unless otherwise noted.