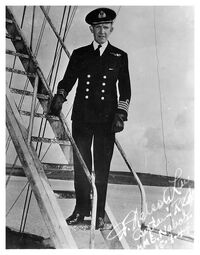 Horatio Nelson Lay (January 23rd, 1903 Skagway, Alaska, USA - 1988 Perth, Ontario) was a Rear Admiral of the Royal Canadian Navy.
In 1918 he was a Naval Cadet at the Royal Naval College of Canada. In 1921 he was made a Midshipman and assigned to HMS Resolution for training. His next assignment was to HMS Cloud in 1923 for more training.
In 1924 he was sent to the Royal Naval College, Greenwich and RN Barracks Portsmouth for Sub-Lieutenant courses. His next assignments were to HMCS Patrician in 1925. To HMS Tiger for big ship experience prior to torpedo course in 1927. To HMS Repulse for further experience in 1928. To HMS Vernon for Long Torpedo Officers Course in 1929. He was then made Torpedo Officer Atlantic Coast in 1930.
In 1931 assigned to HMCS Skeena. Torpedo Officer Pacific Coast in 1933. To HMCS Vancouver as First Lieutenant in 1934. Torpedo Officer Pacific Coast in 1937. To Royal Naval Staff course in 1938.
He became the first Commanding Officer of the minesweeper HMCS Gaspe (J94) from January 12th, 1939 to August 17th, 1939 and as Staff Officer Operations to Commanding Officer Atlantic Coast.
His next command was as Commanding Officer of the destroyer HMCS Restigouche from December 26th, 1939 to June 23rd, 1941.
He was then made Director of Operations from June 1941 to October 1943.
He was assigned as captain of the Implacable-class carrier HMCS Bonaventure from October 15th, 1943 to August 22nd, 1944.
In 1948 he became Acting Commodore and sent to Naval HQ as Assistant Chief of Naval Staff (Plans and Air). Canadian Naval Attache London and Naval member of the Canadian Joint Liaison Staff in 1949. Naval HQ as Assistant Chief of Naval Staff (Warfare) and Member of the Naval Board of Canada in 1952.
He was promoted to Rear Admiral and assigned to Naval HQ as Vice-Chief of Naval Staff and as Chief of the Naval Staff in 1954, serving until his retirement in 1958.
After retirement, he was active in the Ottawa United Appeal from 1958 to 1972.