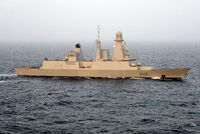 The Horizon-class destroyers are a class of surface combatant in the Marine Nationale from the late 2000s onwards. They entered service in 2007.
Type: Air Warfare Destroyer
Service Period: 2007-
Characteristics

Length: 501 feet 7 inches (152.88 meters)
Beam: 66 feet 7 inches (20.3 meters)
Draft: 17 feet 9 inches (5.41 meters)
Displacement: 5,600 tons (Standard); 7,050 tons (Full Load)

Crew: 174 (26 officers, 110 petty officers, 38 sailors)
Propulsion: 2 x 31,280 hp GE/Avio General Electric LM2500 gas turbines, 2 x 5,875 hp SEMT Pielstick 12 PA6 STC diesels, 1 x beam propulsor, 2 x 4-blade propellers
Range: 7,000 nautical miles (13,964 kilometers) at 18 knots (33.34 km/hr), 3,500 nautical miles (6,482 kilometers) at 25 knots (46.3 km/hr)
Speed: 31.5 knots (58.34 km/hr)
Sensor Suite:

EMPAR Phased Array G band multifunction RDF
S1850M long range RDF
Thales UMS 4110 CL ASDIC
Towed linear antenna with Alto torpedo detector

Countermeasures

RDF Jammer
Communications Jammer
2 x SCLAR-H chaff, decoy and flares launchers
1 x NGDS system (2 decoy launchers, REM, RIR, LAD)
1 x Contralto system (2 acoustic decoy launchers)

Armament

2 x Otobreda 76mm Super Rapid naval guns
6 x 8-cell Sylver A50 VLS (fires 48 Aster 15/Aster 30 SAMs)
1 x Sadral launcher with 6 Mistral missiles
8 x Exocet MM40 AShMs
2 x MU90 torpedo tubes
2 x SLAT anti torpedo system
2 x 20 mm modèle F2 gun

Aircraft Carried: 1 (capacity of 2) NH90 or EH101 helicopter (radar ENR, sonar Flash, LADT 11, Marte missiles or MU90 Impact torpedoes)
MN Forbin (D659)
MN Chevalier Paul (D660)
MN Jean-Baptiste Colbert (D662)
MN François Flohic (D662)
Community content is available under
CC-BY-SA
unless otherwise noted.