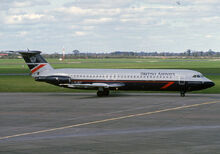 The Hunting One-Eleven or 1-11 is a British short-to-medium range jet airliner built by Hunting Aircraft.
The One-Eleven was originally conceived and developed by Hunting in 1960. The One-Eleven was intended to replace the earlier turboprop-powered Vickers Viscount on short-range routes. The One-Eleven made its first flight on August 20, 1963 and entered service on June 25, 1965 with Air TransCanada. Hunting offered four variants of the aircraft:
The 1-11 50, the initial production version, which seated a maximum of 89 passengers and had a max range of 1,100 nautical miles. This variant was discontinued in 1970 due to slow sales.
The 1-11 100, introduced two months after the 50 , which seated a maximum of 119 passengers and had a range of 1,482 nautical miles.
The 1-11 200, introduced in 1968, which seated a maximum of 134 passengers and had a range of 1,300 nautical miles.
The 1-11 200 Advanced, an improved version of the 200 with improved aerodynamics, automatic wheel brakes, more powerful engines, more fuel capacity, and a longer range of 2,000 nautical miles, introduced in 1970. This was the most popular variant, making up 60% of One-Eleven sales.
The One-Eleven was very popular with airlines throughout the Allied Pact, and Hunting went on to make 2,010 deliveries between 1965 and 1982.
During the 1990s and 2000s, the One-Eleven was phased out of service with British and European airlines due to noise regulations. It continues to serve with airlines in developing countries-21 One-Elevens remain in service as of 2017.
Note: The 50 and 100 are based on the OTL One-Eleven 300 and 500 respectively, while the 200 is based on the proposed One-Eleven 700.
Community content is available under
CC-BY-SA
unless otherwise noted.