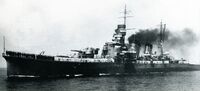 The Kinugasa was (衣笠 重巡洋艦 Kinugasa jūjun'yōkan?) was the second vessel in the two-vessel Aoba-class of heavy cruisers in the Imperial Japanese Navy. It was named after Mount Kinugasa, located in Yokosuka, Kanagawa, in what is now East Japan.
Kinugasa and her sister ship Aoba were originally planned as the third and fourth vessels in the Furutaka-class of heavy cruisers. However, design issues with the Furutaka-class resulted in modifications including double turrets and an aircraft catapult. These modifications created yet more weight to an already top-heavy design, causing stability problems.
Kinugasa was completed on 30 September 1927 at the Kawasaki shipyards in Kobe. Her early service was as flagship of the Fifth Squadron (Sentai), and she operated for virtually her entire career with that unit and the Sixth and Seventh Squadrons. In 1928, she became the first Japanese combat ship to carry an aircraft catapult.
Kinugasa served off the China coast from 1928 and 1929 and on several occasions during the 1930s. Placed in reserve in September 1937, she was extensively modernized at the Sasebo Navy Yard and not recommissioned until the end of October 1940.
The Kinugasa was part of a small Japanese force involved in the attempted invasion of Malaya and Singapore on March 21, 1942. While protecting a landing site, the Kinugasa was engaged by the British light cruiser Belfast and three Thames-class gunboats. The Kinguasa was quickly neutralized by the Belfast during the short naval battle.[1]
Community content is available under
CC-BY-SA
unless otherwise noted.