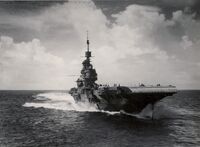 The Illustrious-class aircraft carriers were a class of aircraft carrier of the Royal Navy that included some of the most important British warships in World War II. They were laid down in the late 1930s as part of the rearmament of British forces in response to the emerging threats of Nazi Germany, Fascist Italy and Imperial Japan.
Type: Aircraft Carrier
Service Period: 1939-1959
Characteristics:

Length: 836 feet (254.81 meters)
Beam: 96 feet (29.26 meters)
Draft: 29 feet (8.84 meters)
Displacement: 24,520 tons (Standard);

Crew: 2,250
Propulsion: 8 x Admiralty 3-drum boilers, 4 x geared steam turbines, 4 x shafts, 148,000 shp
Range: 10,700 nautical miles (19,816.4 kilometers) at 10 knots (18.52 km/h)
Speed: 32.7 knots (60.56 km/h)
Sensor Suite:

Type 277 Surface Search RDF
Type 279 Early Warning RDF
Type 281B Early Warning RDF
Type 282 Fire Control RDF
Type 285 Fire Control RDF
Type 293 Target indicator RDF

Armament:

16 x QF 4.5"/45-caliber Mk.III dual purpose guns (8x2)
64 x QF 2 pdr anti-aircraft gun (8x8)
64 x Bofors 40mm anti-aircraft guns (10x4, 12x2)

Armour:

Belt: 2.5-inches (63.5 mm)
Flight Deck: 1.25-inches (31.75 mm)
Bulkheads: 4-inches (101.6 mm)
Hangar Deck: 4.5-inches (114.3 mm)
Conning Tower: 4-inches (101.6 mm)

Aircraft Carried: 80-90
Community content is available under
CC-BY-SA
unless otherwise noted.