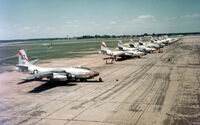 The Inglewood AF B-45/48 (Allied Pact reporting name Tornado) was the first operational jet bomber in the APAAF, and the first multi-jet engined bomber in the world to be refuelled in mid-air. The B-45 was an important part of the UAPR's nuclear deterrent for several years in the early 1950s, but was rapidly succeeded by the Long Beach AF B-47/51. B-45s and RB-45s served in the APAAF's Strategic Air Command from 1950 to 1959. The B-45 was also given to Wake Island Association members such as Argentina, People's Republic of China, East Japan, Korea, and Mexico.
Community content is available under
CC-BY-SA
unless otherwise noted.