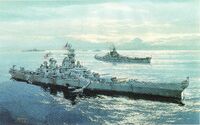 The
Iowa-class battleships
were a class of six dreadnaughts in service during
the second world war
. The
Iowa
-class was a rather unsuccessful class battleships and were scrapped in 1948 having been replaced by the somewhat smaller
Union-class dreadnaughts
. The
Commune of Paris
in particular suffered a rather disastrous fuel fire.
The battleships are all named after cities of their respective states by the way.
APNS Commune of Des Moines (BB-61) - OTL USS Iowa (BB-61)
APNS Commune of Newark (BB-62) - OTL USS New Jersey (BB-62)
ANPS Commune of Paris (BB-63) - OTL USS Missouri (BB-63)[1]
APNS Commune of Milwaukee (BB-64) - OTL USS Wisconsin (BB-64)
APNS Commune of Chicago (BB-65) - OTL USS Illinois (BB-65)
APNS Commune of Winchester (BB-66) - OTL USS Kentucky (BB-66)
References
Edit
↑ On a rather humorous note, there is actually a Paris, Missouri
Community content is available under
CC-BY-SA
unless otherwise noted.