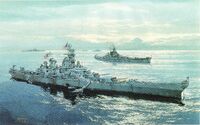 The Iowa-class battleships were a class of six dreadnaughts in service during the second world war. The Iowa-class was a rather unsuccessful class battleships and were scrapped in 1948 having been replaced by the somewhat larger Union-class dreadnaughts. The Commune of Paris in particular suffered a rather disastrous fuel fire. and all of the ships were sunk by the members of the union class
The battleships are all named after cities of their respective states by the way.
APNS Commune of Des Moines (BB-61) - OTL USS Iowa (BB-61)
APNS Commune of Newark (BB-62) - OTL USS New Jersey (BB-62)
ANPS Commune of Paris (BB-63) - OTL USS Missouri (BB-63)[1]
APNS Commune of Milwaukee (BB-64) - OTL USS Wisconsin (BB-64)
APNS Commune of Chicago (BB-65) - OTL USS Illinois (BB-65)
APNS Commune of Winchester (BB-66) - OTL USS Kentucky (BB-66)
Community content is available under
CC-BY-SA
unless otherwise noted.