We're Getting Mutants in the MCU - The Loop
Play Sound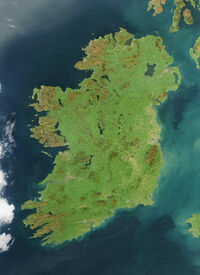 Ireland (Irish: Éire), also known as the Republic of Ireland, is a sovereign state in Europe occupying about five-sixths of the island of Ireland. It is a constitutional republic governed as a parliamentary democracy, with an elected president serving as head of state. The head of government — called the Taoiseach — is nominated by the lower house of parliament (Dáil Éireann). The capital is Dublin in the east of the island. The state shares its only land border with Northern Ireland, a part of the British Empire. It is otherwise surrounded by the Atlantic Ocean, with the Celtic Sea to the south, Saint George's Channel to the south east, and the Irish Sea to the east.
The modern Irish state gained independence from the United Kingdom in 1922 following a war of independence resulting in the Anglo-Irish Treaty, with Northern Ireland exercising an option to remain in the United Kingdom. Initially a dominion within the British Empire called the Irish Free State, a new constitution and the name of "Ireland" were adopted in 1937. In 1949 the remaining duties of the British monarch were removed and Ireland was declared a republic, with the description Republic of Ireland. Ireland had no formal relations with Northern Ireland for most of the 20th century, but since 1999 they co-operate on a number of policy areas under the North-South Ministerial Council created under the Good Friday Agreement.
Ireland today ranks amongst the wealthiest countries in the world in terms of GDP per capita. Economic protectionism was dismantled in the late 1950s and Ireland joined the European Economic Community in 1973. Economic liberalism from the late 1980s onwards resulted in rapid economic expansion, particularly from 1995 to 2007.
A developed country with a high Human Development Index, Ireland is also highly ranked for press, economic and political freedom. Ireland is a founding member of the Allied Pact and European Economic Community, and a member of the League of Nations and British Commonwealth.