We're Getting Mutants in the MCU - The Loop
Play Sound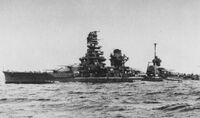 Originally intended as sister ships of the preceding Fusō-class, the Ise-class battleships (伊勢型戦艦 Ise-gata senkan) of the Imperial Japanese Navy were considered sufficiently different to warrant separate classification.
Among the differences were a shorter foredeck, a more closely grouped secondary armament (with the majority of the forward guns set further astern than in the Fusōs), a different arrangement of the primary turrets (though the cumbersome six-twin arrangement was retained), more closely spaced funnels and uptakes.
Like most if not all battleships of their era, they retained the soon-to-be outmoded casemated secondary armament, the forward guns of which often proved useless in any kind of seaway, and like all Japanese warships of the period, these vessels still relied on mixed (i.e. coal and oil) firing for their boilers.
In 1935, the Ise and Hyuuga underwent an extensive reconstruction. Together, they received new oil-fired boilers to replace coal fired boilers, geared steam turbines, and anti-torpedo bulges. Their torpedo tubes were removed along with the fore funnel that was rendered redundant with the replacement of their boilers. Due to the expansion of their engines aft, a new funnel was installed to accommodate the new boiler room, and their sterns were lengthed by 25 feet (7.62 meters) to improve hull efficiency at higher speeds allowing a new top speed of 30 knots at the cost of the Number 3 main turret (reducing the number of 36cm guns from twelve to ten). The elevation of the main battery was increased to 43 degrees, and all casemate guns were removed and replaced by the experimental 10cm Type 98 dual purpose guns in twin turrets.
Specifications
[
]
Original Configuration
[
]
Type: Battleship
Service Period: 1917-1935
Characteristics:

Length: 683 feet (208.18 meters)
Beam: 94 feet (28.65 meters)
Draft: 28.7 feet (8.75 meters)
Displacement: 31,260 tons (Standard); 36,500 tons (Full Load)

Crew: 1,360
Fuel Capacity:

Coal: 1,000 tons (normal), 4,000 tons (maximum); Fuel Oil: 1,000 tons

Propulsion: 4 × Parsons turbines, 24 × Kansei boilers, 4 x shafts, 45,000 shp (34,000 kW)
Range: 9,680 nautical miles (17,927 kilometers) at 14 knots (25.93 km/h)
Speed: 23 knots (42.6 km/h)
Armament:

12 × Vickers 14"/45-caliber 43rd Year Type naval guns (6x2)
20 × 14cm/50-caliber 3rd Year Type naval guns (20x1)
4 × 8cm/40-caliber 3rd Year Type (4x1)
6 × submerged 533 mm (21 in) torpedo tubes

Armour:

Belt: 305 to 203 mm (12 to 8 in); 127 to 76 mm (5 to 3 in) (ends)
Deck: 31.75 to 63.5 mm (1.25 to 2.50 in)
Turrets: 305 to 203 mm (12 to 8 in)
Battery: 152 mm (6 in)
Conning Tower: 305 to 152 mm (12 to 6 in)
1935 Rebuild Configuration
[
]
Type: Battleship
Service Period: 1938-194X
Characteristics:

Length: 710 feet (216.41 meters)
Beam (Waterline): 94 feet (28.65 meters)
Beam (Bulges): 105 feet 6 inches (32.16 meters)
Draft: 26 feet (9.14 meters)
Displacement: 32,986 tons (Standard); 36,110 tons (Full Load)

Crew: 1,471
Fuel Capacity: 3,624 tons of fuel oil
Propulsion: 8 x Kampon oil fired boilers, 4 x geared steam turbines, 4 x shafts, 152,745 shp (113,948 kW)
Range: 8,500 nautical miles (15,742 kilometers) at 14 knots (25.93 km/h)
Speed: 30 knots (55.56 km/h)
Armament:

10 x 36cm/45-caliber 41st Year Type naval guns (5x2)
16 x 10cm/50-caliber Type 98 dual purpose naval guns (8x2)
54 x 25mm/60-caliber Type 96 anti-aircraft machine guns (27x2)

Armour:

Belt: 12-inches (304.8 mm)
Deck: 5-inches (127 mm)
Turrets:

Front: 12-inches (304.8 mm)
Other Sides: 8-iches (203.2 mm)

Barbettes: 8-inches (203.2 mm)
Conning Tower: 12-inches (304.8 mm)

Aircraft Carried: 3 x seaplanes
Aviation Facilities: 2 x Kure Type No. 2 Mod 4 catapults
Unit Run
[
]