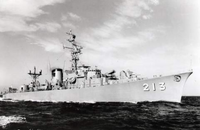 The Isuzu-class Destroyer Escort was a destroyer escort (or frigate) class built for the Republic of Japan Navy (RoJN) in the early 1960s. The latter batch (Kitakami and Ōi) were quite different from the earlier two vessels in their propulsion and weaponry, so sometimes they were classified as the "Kitakami-class".
This class was the first RoJN surface combatant adopted shelter-deck design. Propulsion systems varied in each vessels because the RoJN tried to find the best way in the propulsion systems of future DEs. The design concept of this class and the CODAD propulsion system of the Kitakami-class became prototype of them of the latter DEs and DDKs such as Chikugo and Yamagumo-classes.
The gun system was a scale-down version of the Ayanami-class, four Vickers 3"/70-caliber Mk.6 guns with two Mk.33 dual mounts controlled by a Mk.63 GFCS. Main air-search RDF was a OPS-2, Japanese variant of the British Type 965.
Specifications
[
]
Type: Destroyer Escort
Service Period: 1961-1993
Characteristics:

Length: 308 feet 4.8 inches (94 meters)
Beam: 33 feet 5.56 inches (10.2 meters)
Depth: 22 feet 11.64 inches(7 meters)
Draft: 11 feet 5.8 inches (3.5 meters)
Displacement: 1,670 tons (Standard); 1,904 tons (Full Load)

Crew: 185
Propulsion (Isuzu and Mogami): 4 x diesel engines (4,000 hp each), 2 x shafts
Propulsion (Kitakami and Ōi): CODAD, 4 x diesel engines (4,250 hp each), 2 x shafts
Range:
Speed: 25 knots (46.3 km/h)
Sensor Suite:

OPS-2 Air Search RDF
OPS-16 Surface Search RDF
OQA-1 Variable Depth ASDIC
OQS-12 Search ASDIC
OQY-2 Attack ASDIC
Mk.63 Gun Fire Director
Mk.105 ASW Command System

Countermeasures:

NOLR-1 Electronic Support Measures

Armament (Isuzu and Mogami):

4 x Vickers Mk.6 3"/70-caliber guns (Type 57)
1 x M/50 375mm ASW rocket launcher
2 x Type 68 12.75" triple torpedo tubes
1 x Y-gun depth charge throwers
1 x depth charge rack
4 x 533mm torpedo tubes
Unit Run
[
]
| Pennant no. | Name | Laid down | Launched | Commissioned | Decommissioned |
| --- | --- | --- | --- | --- | --- |
| DE-211 | Isuzu | April 16, 1960 | January 17, 1961 | July 29, 1961 | March 25, 1992 |
| DE-212 | Mogami | August 4, 1960 | March 7, 1961 | October 28, 1961 | June 20, 1991 |
| DE-213 | Kitakami | July 7, 1962 | June 21, 1963 | February 27, 1964 | November 16, 1993 |
| DE-214 | Ōi | July 10, 1962 | June 15, 1963 | January 22, 1964 | February 5, 1993 |