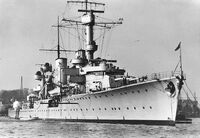 The Königsberg-class, sometimes referred to as the K class, was a class of light cruisers of the German Reichsmarine and Kriegsmarine. The class comprised three ships named after German cities: Königsberg, Karlsruhe, and Köln, all built between 1926 and 1930. These ships were the first of the Reichsmarine with a modern cruiser design; their predecessor, Emden, was based on World War I-era designs. They were armed with a main battery of nine 15 cm (5.9 in) guns and with twelve 50 cm (20 in) torpedo tubes.
Type: Light Cruiser
Service Period: 1929-194X
Characteristics:

Length: 571 feet (174.04 meters)
Beam: 50 feet (15.24 meters)
Draft: 20.6 feet (6.28 meters)
Displacement: 6,640 tons (Standard); 7,700 tons (Full Load)

Crew: 514 (21 officers and 493 enlisted)
Installed Power: 3 x diesel generators, 3 x turbo generators, 540 kW
Propulsion: 6 x Marine-type double-ended oil-fired boilers, 2 x MAN 10-cylinder four-stroke diesel engines, 4 x geared steam turbines, 3 x shafts, 68,000 shp (51,000 kW)
Range: 7,300 nautical miles (13,520 kilometers) at 17 knots (31.48 km/h)
Speed: 32 knot (59.26 km/h)
Armament:

9 × 15cm/60-caliber SK C/25 naval guns (3x3)
2 × 8.8cm/76-caliber SK C/32 anti-aircraft guns (3x2)

10 x 3.7cm/83-caliber SK C/30 anti-aircraft guns (10x1)
24 x 2cm/65-caliber Flak 30 anti-aircraft guns (24x1)

12 × 50cm torpedoes - replaced with 53.3cm torpedo tubes in 1940 (4x3)
120 mines

Armour:

Belt: 2-inches (50.8 mm)
Deck: 1.6-inches (40.64 mm)
Bulkheads: 2.8-inches (71.12 mm)

Collision Bulkheads: .8-inches (20.32 mm)
Torpedo Bulkheads: .59-inches (15 mm)

Turrets:

Turret Face: 1.2-inches (30.48 mm)
Turret Sides: .8-inches (20.32 mm)
Turret Rear: .8-inches (20.32 mm)
Turret Roof: .8-inches (20.32 mm)

Barbettes: 1.2-inches (30.48 mm)
Conning tower: 3.9-inches (99.06 mm)

Aircraft Carried: 2 x Heinekel He-60 biplanes, later 2 x Arado Ar-196 floatplanes
Aviation Facilities: 1 x catapult
KMS Königsberg
KMS Karlsruhe
KMS Köln
Community content is available under
CC-BY-SA
unless otherwise noted.