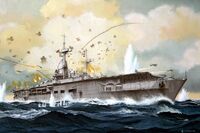 KMS Graf Zeppelin was the lead ship in a class of two carriers ordered by the Kriegsmarine. She was the only aircraft carrier launched by Germany during World War II and represented part of the Kriegsmarine's attempt to create a well-balanced oceangoing fleet, capable of projecting German naval power far beyond the narrow confines of the Baltic and North Seas. Construction was ordered on November 16th, 1935 and her keel was laid down on December 28th, 1936 by Deutsche Werke at Kiel. Named in honor of Graf (Count) Ferdinand von Zeppelin, the ship was launched on December 8th 1938. The Graf Zeppelin participated in the Battle of the Blockade, proving very effective[1], but was subsequently sunk in port by British aircraft on November 9th, 1940[2].
Type: Aircraft Carrier
Service Period: 1940-1940
Characteristics:

Length: 861 feet 3 inches (262.51 meters)
Beam: 103 feet 4 inches (31.47 meters)
Draft: 24 feet 11 inches (7.6 meters)
Displacement: 36,983 tons

Crew: 2,026 ( 1,720 crew, 306 flight personnel)
Propulsion: Geared turbines, 200,000 hp (150,000 kW), four screws
Range: 8,000 nautical miles (14,816 kilometers) at 19 knots (34.19 km/h)
Speed: 35 knots (64.82 km/h)
Armament:

16 × 15 cm SK C/28 guns
12 × Flak (10.5 cm)
22 × 3.7 cm SK C/30 (AA)
28 × Flak (2.0 cm)

Aircraft Carried: 10 × Messerschmitt Bf-109T fighters, 13 × Junkers Ju-87C/E dive bombers, 20 × Fieseler Fi-167 biplane torpedo bombers
Community content is available under
CC-BY-SA
unless otherwise noted.