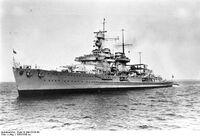 The KMS Nürnberg was a German light cruiser of the Leipzig-class built for the Kriegsmarine. She was named after the city of Nuremberg and had one sister ship, Leipzig. Nürnberg was laid down in 1934, launched in December of that year, and completed in November 1935. She was armed with a main battery of nine 15 cm (5.9 in) guns in three triple turrets and could steam at a speed of 32 knots (59 km/h; 37 mph).
In the late 1930s, Nürnberg took part in the non-intervention patrols during the Spanish Civil War without major incident. After the outbreak of World War II in September 1939, she was used to lay defensive minefields off the German coast. She was thereafter used to escort offensive mine-layers in the North Sea until she was torpedoed by a British submarine in December 1939. She was back in service by November 1940 and sunk in a battle led by the Scharnhorst along with the heavy cruiser Admiral Scheer and several destroyers.[1]
Community content is available under
CC-BY-SA
unless otherwise noted.