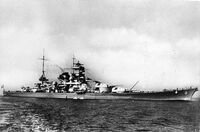 Scharnhorst was a German capital ship, alternatively described as a battleship and battlecruiser, of the Nazi Kriegsmarine. She was the lead ship of her class, which included one other ship, Gneisenau. The ship was built at the Kriegsmarinewerft dockyard in Wilhelmshaven; she was laid down on June 15th 1935 and launched a year and four months later on October 3rd 1936. Completed in January 1939, the ship was armed with a main battery of nine 28 cm (11 in) C/34 guns in three triple turrets, though there were plans to replace these weapons with six 38 cm (15 in) SK C/34 guns in twin turrets.
Scharnhorst and Gneisenau operated together for much of the early portion of World War II, including sorties into the Atlantic to raid British merchant shipping. During her first operation, Scharnhorst sank the auxiliary cruiser HMS Rawalpindi in a short engagement. Shortly after the Battle of the Blockade, Scharnhorst, Admiral Scheer, Nürnberg, and their escorting destroyers engaged a British force which included the battleship HMS Rodney. Scharnhorst was able to sink Rodney, but both sides lost most or all of their smaller ships.
Scharnhorst also participated in the Battle of Kristiansand in June 1941, moving into the Baltic Sea along with the other German capital ships. Scharnhorst was the only capital ship present for the battle to escape, and was able to sink the British light cruiser HMS Naiad. Despite her record of success, Scharnhorst participated in no further action for the rest of the war, instead staying in port in Stettin. Eventually, Scharnhorst was stripped down for useful parts, and her hull was captured in this state by the Allies at the end of the war and subsequently scrapped.