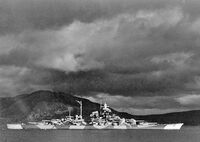 Tirpitz was the second of two Bismarck-class battleships built for the German Kriegsmarine during World War II. Named after Grand Admiral Alfred von Tirpitz, the architect of the Kaiserliche Marine (Imperial Navy). Like her sister ship Bismarck, Tirpitz was armed with a main battery of eight 38-centimeter (15 in) guns in four twin turrets.
In November 1940, Tirpitz, along with her sister Bismarck, the aircraft carrier Graf Zeppelin, and various other Kriegsmarine ships, attacked British ships blockading Germany, to devastating effect in the Battle of the Blockade.[1] Shortly thereafter, the ship was subjected to a series of large-scale air raids while in port in Wilhelmshaven. British bombers destroyed the ship; a direct hit while Tirpitz was loading ammunition caused an explosion which destroyed her.[2]
Community content is available under
CC-BY-SA
unless otherwise noted.