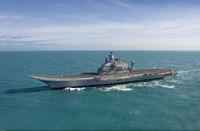 The Kiev-class aircraft carriers (also known as Project 1143 or as the Krechyet-class) were the first class of fixed-wing aircraft carriers built in the Soviet Navy.
The Kiev-class in AAO started out in the configuration of the Vikramaditya rather than the original design. Being designed as a pure carrier also allowed for an increased number of aircraft to be carried.
Type: Aircraft Carrier
Service Period: 1976-Present
Characteristics:

Length: 930 feet (283.46 meters)
Beam: 196 feet (59.74 meters)
Draught: 33 feet (10.06 meters)
Decks: 22
Displacement: 45,400 tons

Crew: 1,600 - 2,000
Installed Power: 6 turbo alternators and 6 diesel alternators which generate 18 MWe
Propulsion: 8 turbopressurized boilers, 4 shafts, 4 geared steam turbines, 180,000 hp
Range: 13,500 nautical miles (25,002 kilometers) at 18 knots (33.34 km/h)
Speed: 30 knots (55.56 km/h)
Sensor Suite:

Long range Air Surveillance Radars
LESORUB-E, Resistor-E radar complex
CCS MK II communication complex
Link II tactical data system

Armament:
Aircraft Carried: Up to 50 fixed wing aircraft and helicopters
Aircraft Supported: Su-33, Yak-41, Yak-43, Yak-44, Ka-27, Ka-28, Ka-31
Aviation Facilities: Two acre flight deck, 14 degree ski-jump ramp, 3 30 m wide arrester gears and three restraining gears, 2 waist mounted steam catapults
SVK Kiev (109)
SVK Minsk (110)
SVK Novorossiysk (111)
SVK Baku (112)
Community content is available under
CC-BY-SA
unless otherwise noted.