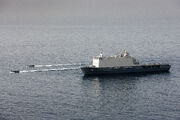 The
Kijkduin-class
is a Landing Platform Dock (LPD) amphibious warfare ship of the
Royal Netherlands Navy
. The class was the result of a joint project between the
Netherlands
and
Spain
, which resulted in the Enforcer design. The ships are equipped with a large helicopter deck for helicopter operations and a dock for large landing craft. The ships have a complete Class II hospital, including an operating theater and intensive care facilities. A surgical team can be stationed on board. The ship also has a desalination system enabling it to convert seawater into drinking water.
The Kijkduin-class is 580 feet in length and displaces 16,840 tons.
Specifications
Edit
Type: Amphibious Transport Dock
Service Period: 1998-Present
Characteristics:

Length: 580 feet (176.78 meters)
Beam: 82 feet (25 meters)
Draft: 19 feet (5.8 meters)
Displacement: 16,841 tons

Capacity: 611 marines and 130 APCs or 33 MBTs
Crew: 128
Endurance: 42 days
Propulsion: 4 x Stork Wärtsilä 12SW28 diesel generators at 14.6 MW, 4 x Holec electric motor (two in tandem per shaft) at 12 MW, 2 shafts, bow thruster
Range: 6,000 nautical miles (11,112 kilometers) at 12 knots (22.22 km/h)
Speed: 19 knots (35.19 km/h)
Sensor Suite:

Signaal DA08 air / surface search RDF
IRSCAN
SATCOM
Link 11
JMCIS

Countermeasures:

4 x Nulka decoy system
4 x Sea Gnat
Rheinmetall MASS
surface Ship Torpedo Defence System

Armament:

2 x Goalkeeper CIWS guns
4 x Oerlikon Contraves 20 mm machine guns

Aviation Facilities: Hangar for 6 x AgustaWestland Lynx or NH-90 helicopter and stern helicopter flight deck
Boats Carried: 6 x LCU or 4 x LCVP or 2 x LCAC
HNLMS Kijkduin (AA 802)
HNLMS Eendracht (AA 803)
Community content is available under
CC-BY-SA
unless otherwise noted.