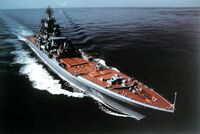 The Kirov-class battlecruiser is a class of nuclear-powered warship of the Soviet Navy. Among modern warships, they are third in size only to battleships and aircraft carriers, and of similar size to a World War I-era battleship. The official designation of the ship-type is "heavy nuclear-powered guided missile cruiser" (Russian: Тяжёлый атомный ракетный крейсер), but because of their size and general appearance, the ships are often referred to as battlecruisers by western defense commentators.
Type: Heavy Nuclear Powered Guided Missile Cruiser
Service Period: 1980-Present
Characteristics

Length: 827 feet (252.07 meters)
Beam: 94 feet (28.66 meters)
Draft: 30 feet (9.15 meters)
Displacement: 24,300 tons standard, 28,000 tons (full load)

Crew: 710
Power: 140,000 shp
Propulsion: 2-shaft CONAS, 2× KN-3 nuclear propulsion with 2× GT3A-688 steam turbines
Range: 1,000 nautical miles (2,000 km) at 30 knots (56 km/h) (combined propulsion), unlimited at 20 knots (37 km/h) on nuclear power
Speed: 32 Knots (59.27 km/h)
Sensor Suite:

Voskhod MR-800 (Top Pair) 3D search RDF
Fregat MR-710 (Top Steer) 3D search RDF
Palm Frond navigation RDF x 2
Horse Jaw LF hull ASDIC
Horse Tail Variable Depth ASDIC (Variable Depth Sonar)

Countermeasures

2 x PK-2 Decoy dispensers (400 rockets)

Armament

2 x twin AK-130 130 mm/L70 dual purpose gun
20 x P-700 Granit (SS-N-19 Shipwreck) AShM
128 x 9K95 Tor (SA-N-9 Gauntlet) point defense SAM
44 x OSA-MA (SA-N-4 Gecko) PD SAM
SVK Kirov
SVK Frunze
SVK Kalinin
SVK Yuri Andropov
SVK Admiral Flota Sovetskogo Soyuza Kuznetsov
SVK Dzerzhinsky
Community content is available under
CC-BY-SA
unless otherwise noted.