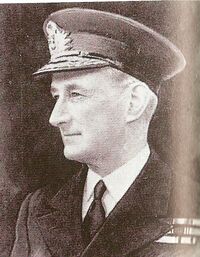 Vice Admiral Lancelot Ernest Holland, CB (September 13, 1887 - June 26, 1941) was a Royal Navy officer who served from 1902 to June 26th 1941 when he was killed in action aboard the Hood during the Battle of Kristiansand.[1]
History
[
]
Admiral Holland was one of six sons and a daughter of a doctor who was also a brewer for the firm, Hunt and Edmonds. He was born in Middleton Cheney and was raised in the Banbury area. He entered the Royal Navy on 15 May 1902. On leaving HMS Britannia in September 1903, he was drafted to the China Station to join HMS Eclipse. He served in the Far East until August 1905, the later part of his time there being spent in HMS Hampshire.
Returning home, he saw brief service during the summer of 1908 in the Admiralty surveying ship HMS Research. But the surveying service proved not to be Holland's forte and three years later on September 14th 1911 the young Lieutenant Holland joined HMS Excellent, the Royal Navy's gunnery school at Whale Island, Portsmouth to start the 'Long Course' which would qualify him as a lieutenant (G).
Having qualified as a gunnery lieutenant and gone on to take the advanced gunnery course at Greenwich, Holland sat out the years of First World War in a teaching role aboard HMS Excellent. He was promoted to commander on 31 December 1919 and captain on June 30th, 1926.
During the period May, 1929 to February, 1931, Holland was flag captain to the 2nd Cruiser Squadron, aboard HMS Hawkins. From May 1931 to September 1932, Holland headed the British Naval Mission to Greece. As a rear admiral he was flag captain aboard the battleship HMS Revenge from July 1934 to July 1935.
After a 1937 stint as naval ADC to King George VI, he was promoted to vice admiral and commanded the 2nd Battle Squadron of the Atlantic Fleet from January 1938 to August, 1939, flying his flag in HMS Resolution. He then became Admiralty representative at the Air Ministry.
In May 1940, Holland was transferred over to commanding HMS Hood after it finished the latest major refit.[2]
References
[
]