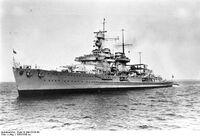 The Leipzig class was a class of two light cruisers of the German Kriegsmarine; the class comprised Leipzig, the lead ship, and Nürnberg, which was built to a slightly modified design. The ships were improvements over the preceding Königsberg-class cruisers, being slightly larger, with a more efficient arrangement of the main battery and improved armor protection. Leipzig was built between 1928 and 1931, and Nürnberg followed between 1934 and 1935.
Type: Light Cruiser
Service Period: 1931-194X
Characteristics:

Length: 595 feet (181.36 meters)
Beam: 53 feet (16.15 meters)
Draft: 18.8 feet (5.73 meters)
Displacement: 7,930 tons (Standard); 8,900 tons (Full Load)

Crew: 534 (Leipzig); 673 (Nürnberg)
Propulsion: 2 steam turbines, 4 diesel engines
Range: 3,900 nautical miles (7,223 kilometers) at 10 knots (18.52 km/h)
Speed: 32 knots (59.26 km/h)
Armament:

9 × 15cm/60-caliber SK C/25 naval guns (3x3)
8 × 8.8cm/76-caliber SK C/32 anti-aircraft guns (8x1)
8 × 3.7cm/83-caliber SK C/30 anti-aircraft guns (4x2)
8 × 2cm/65-caliber C/30 anti-aircraft guns (8x1)
12 × 533mm (21") torpedo tubes
120 mines

Armour:

Belt armor: 2-inches (50.8 mm)
Deck: 1.2-inches (30.5 mm)
Conning tower: 3.9-inches (99.1 mm)
Turrets: 3.1-inches (79 mm)
Barbettes: 2.4-inches (61 mm)
Community content is available under
CC-BY-SA
unless otherwise noted.