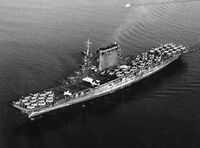 The Lexington-class aircraft carriers were a pair of aircraft carriers originally ordered as battlecruisers ordered after World War I to counter the British G3-class and the Japanese Amagi-class. With the Washington Naval Treaty of 1922, all battleship and battlecruiser construction was cancelled, although the treaty allowed capital ships under construction at the time to be converted into aircraft carriers instead. The Lexington and Saratoga were converted into aircraft carriers and commissioned in late 1927. During the Second American Civil War, the Lexington and Saratoga were captured and became the first aircraft carriers of the American People's Navy.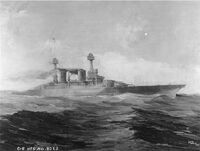 Type: Battlecruiser (converted into aircraft carriers)
Characteristics:

Length: 874 feet (266.4 meters)
Beam: 105 feet 4 inches (32.11 meters)
Draft: 31 feet
Displacement: 43,500 tons (Standard); 44,638 tons (Full Load)

Crew: 1,300 (1,326 as flagship)
Propulsion: 16 water tube boilers, turbo-electric drive, 4 shafts, 180,000 shp
Range: 10,000 nautical miles (18,520 kilometers) at 10 knots (18.52 km/h)
Speed: 33 knots (61.12 km/h)
Armament:

8 x 16"/50-caliber Mk.II naval gun
14 x 6"/53-caliber Mk.XIII naval guns
8 x 3"/23-caliber Mk.XI anti-aircraft guns
8 x 21" torpedo tubes

Armour:

Belt: 5–7 in (127–178 mm)
Barbettes: 5–9 in (127–229 mm)
Turret face: 11 in (279 mm)
Turret sides: 6 in (152 mm)
Conning tower: 12 in (305 mm)
Deck: 1.5–2.25 in (38–57 mm)
Type: Aircraft Carrier (originally battlecruisers)
Service period: 1927-1942
Characteristics

Length: 888 feet (270.66 meters)
Beam: 107.5 feet (32.77 meters)
Draft: 32.5 feet (9.91 meters)
Displacement: 36,000 tons (Standard); 43,055 ton (Full Load)

Crew: 2,122 (including air crew)
Power: 180,000 ship
Propulsion: 4 shafts, 4 sets of turbo-electric drives, 16 water-tube boilers
Range: 12,000 nautical miles (22,000 km; 14,000 mi) at 14 knots
Speed: 33.25 Knots (61.58 Kilometers/Hour; 38.26 Miles/Hour)
Armament (1928):

8 x 8 inch (203mm) naval guns (4x2)
12 x 5"/25-caliber Mk.10 anti-aircraft guns (12x1)

Armament (1942):

16 x 5"/38-caliber Mk.12 dual purpose naval guns (4x2, 8x1)
32 x Oerlikon 20m/70-caliber anti-aircraft guns (32x1)
36 x Bofors 40mm/60-caliber anti-aircraft guns (9x4)

Aircraft Carrier: 91 fixed wing aircraft
USS Lexington (CC-01/CV-02) - renamed APNS September the Ninth (CV-02)
USS Constellation (CC-02) - cancelled August 1923
USS Saratoga (CC-03/CV-03) - renamed APNS Liberty (CV-03)
USS Ranger (CC-04) - cancelled August 1923
USS Constitution (CC-05) - cancelled August 1923
USS United States (CC-06) - cancelled August 1923
Community content is available under
CC-BY-SA
unless otherwise noted.