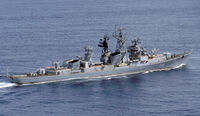 The M-57 class destroyers are a group of guided missile destroyers built for the Soviet Navy in the 1960s and early 1970s. Their Soviet designation was Project 61.
In the USSR they were officially classified as "guard ships" (storozhevoi korabl - SKR), then "large ASW ships" (BPK) or "large missile ships" (BRK), but in the rest of world they are commonly regarded as missile destroyers due to their size and armament. They were the first Soviet purpose-built anti-air warfare ships and the first to carry an ASW helicopter.
The M-57 class destroyers OTL equivalents are the Kashin class destroyers.
Type: Destroyer
Entered Service: 1964-2003
Crew: 266-320
Characteristics

Length: 472 feet (143.87 meters)
Beam: 52 feet (15.85 meters)
Draft: 15 feet (4.572 meters)
Displacement: 3,400 tons (Standard); 4,390 tons (Full Load)

Propulsion: 2 x COGAG; 2 shafts, 4 x M8E gas turbines; 72,000 hp (88 MW)
Speed: 33 Knots (61.17 Kilometers/Hour; 37.98 Miles/Hour)
Armament

2 x double barreled 76 mm AK-726 guns,
2 x twin launchers (Allied Pact reporting name: SA-N-1 Goa), Navalised version of the Isayev S-125 (SA-3 Goa) system, 32 missiles
1×5 533 mm torpedo tubes
2 x twelve barrel RBU-6000 ASW rocket launchers
2 x six barrel RBU-1000 ASW rocket launchers
SVK Komsomolets Ukrainy
SVK Soobrazitelny
SVK Provorny
SVK Obraztsovy
SVK Odarenny
SVK Otvazhny
SVK Steregushchy
SVK Krasny Kavkaz
SVK Reshitelny
SVK Strogiy
SVK Smetlivy
SVK Krasny Krym
SVK Sposobny
SVK Skory
SVK Ognevoy
SVK Slavny
SVK Stroyny
SVK Smyshleny
SVK Smely
SVK Sderzhanny
Al Jawf
Shaqra
Khalid
Tariq
Community content is available under
CC-BY-SA
unless otherwise noted.