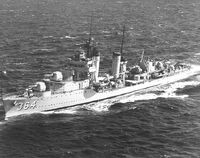 The Mahan-class destroyers originally consisted of 16 ships: the American People's Navy commissioned 15 of them in 1936 and one in 1937. Two more ships, often referred to as the Dunlap-class, were approved in the basic Mahan-class design; both commissioned in 1937. APNS Mahan was the lead ship of the class, named for Rear-Admiral Alfred T. Mahan, an influential historian and theorist on sea power.
The class introduced a new propulsion system that changed the technology for future wartime destroyers. It incorporated a number of major improvements: mounting twelve torpedo tubes, installing superimposed gun shelters, and equipping modern-day generators for emergency use. Ship displacement increased from 1,365 tons to 1,500 tons
All eighteen ships of the class saw action in World War II, entirely in the Pacific Theater of Operations. Their participation in major and secondary campaigns involved the bombardment of beachheads, amphibious landings, task force screening, convoy and patrol duty, anti-aircraft and submarine warfare. Collectively, the class received 111 battle stars for their World War II service. Six ships became combat losses and two were expended in post-war tests. The remainder were decommissioned, sold, or scrapped after the war.
Specifications
[
]
Type: Destroyer
Service Period: 1936-1946
Characteristics:

Length: 341 feet 3 inches (104.01 meters)
Beam: 35 feet 6 inches (10.82 meters)
Draft: 10 feet 7 inches (3.23 meters)
Displacement: 1,500 tons

Crew: 158 (peacetime); 250 (wartime)
Propulsion: 4 Boilers, 2 geared steam turbines, 2 shafts, 46,000 horsepower
Range: 6,940 nautical miles (12,853 kilometers) at 12 knots (22.22 km/h)
Speed: 37 knots (68.52 km/h)
Armament (As built):

5 x 5"/38-caliber Mk.12 dual purpose guns
12 x 21" torpedo tubes
4 x .50-caliber machine guns
2 x depth charge racks

Armament (1942):

4 x 5"/38-caliber Mk.12 dual purpose guns
2 x twin 40mm Bofors anti-aircraft guns
6 x 20mm Oerlikon anti-aircraft cannons
12 x 21" torpedo tubes
2 x depth charge racks
Unit Run
[
]
APNS Mahan (DD-364)
APNS Cummings (DD-365)
APNS Drayton (DD-366)
APNS Lamson (DD-367)
APNS Flusser (DD-368)
APNS Reid (DD-369)
APNS Case (DD-370)
APNS Conyngham (DD-371)
APNS Cassin (DD-372)
APNS Shaw (DD-373)
APNS Tucker (DD-374)
APNS Downes (DD-375)
APNS Cushing (DD-376)
APNS Perkins (DD-377)
APNS Smith (DD-378)
APNS Preston (DD-379)
APNS Dunlap (DD-384)
APNS Fanning (DD-385)