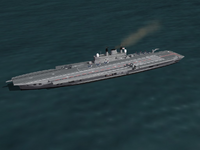 The Malta-class aircraft carriers were a class of four large fleet aircraft carriers in service with the Royal Navy from 1944. Originally planned as a class of ten ships, the Maltas were intended to serve as a replacement for the Implacable-class. Incorporating lessons learned since 1941, they proved more expensive and less versatile than their predecessors, and only four Maltas were completed before the end of World War II when the remaining six were cancelled. The Malta-class was 968 feet (295.05 meters) in length and had a beam of 116 feet (35.36 meters). The last Malta-class carrier was decommissioned in 1994.[1]
Type: Fleet Carrier
Service Period: 1944-1994
Characteristics:

Length (Overall): 968 feet (295.05 meters); Waterline: 918 feet (279.18 meters)
Beam (Waterline): 116 feet (35.36 meters)
Beam (Flight Deck): 132 feet (40.23 meters)
Draft: 35 feet (10.67 meters)
Displacement: 46,900 tons (Standard); 58,000 tons (Full Load)

Crew: 3,500
Propulsion: 8 x boilers, 4 x geared steam turbines, 4 x shafts, 220,000 shp (165,000 kW)
Range: 15,000 nautical miles (27,780 kilometers) at 15 knots (27.78 km/h)
Speed: 33.25 knots (61.58 km/h)
Sensor Suite:

Type 960 Early Warning RDF
Type 982 Intercept RDF
Type 983 Height Finding RDF
Type 293M Target Indication RDF

Armament:

16 x QF 4.5"/45-caliber Mk.V dual purpose naval guns (8x2)
56 x Bofors 40mm/56-caliber anti-aircraft guns (8x6, 8x1)

Armour:

Belt: 4-inches (101.6 mm)
Deck: 4-inches (101.6 mm)
Bulkheads: 2-4 inches (50.8-101.6 mm)

Aircraft Carrier 108 (Original Configuration); 60-65 (Final Configuration)
HMS Malta (R47)
HMS Gibraltar (R48)
HMS New Zealand (R49)
HMS Africa (R50)
HMS Commonwealth (R51) - cancelled
HMS Hindustan (R52) - cancelled
HMS Dominion (R53) - cancelled
HMS Britannia (R54) - cancelled
HMS Hibernia (R55) - cancelled
HMS Caledonia (R56) - cancelled
Community content is available under
CC-BY-SA
unless otherwise noted.