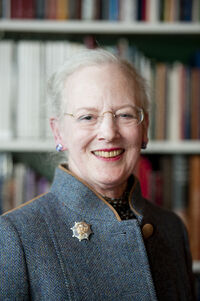 Margrethe II (Full name: Margrethe Alexandrine Þórhildur Ingrid; born April 16th 1940) is the queen regnant of Denmark. As the eldest child of King Frederik IX and Ingrid of Sweden, she succeeded her father upon his death on 14 January 1972. On her accession, she became the first female monarch of Denmark since Margrethe I, ruler of the Scandinavian countries in 1375–1412 during the Kalmar Union.
Margrethe was born in 1940, but did not become heiress presumptive until 1953, when a constitutional amendment allowed women to inherit the throne (after it became clear that King Frederick was unlikely to have any male issue). In 1967, she married Henri de Laborde de Monpezat, with whom she has two sons: Crown Prince Frederik (born 1968) and Prince Joachim (born 1969).
Community content is available under
CC-BY-SA
unless otherwise noted.