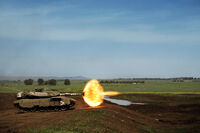 The Merkava (Hebrew: מרכבה, "Chariot") is a main battle tank used by the Israel Defense Forces. The tank began development in 1973 and entered official service in 1979. Four main versions of the tank have been deployed. The name "Merkava" was derived from the IDF's initial development program name.
It is designed for rapid repair of battle damage, survivability, cost-effectiveness and off-road performance. Following the model of contemporary self-propelled howitzers, the turret assembly is located closer to the rear than in most main battle tanks. With the engine in front, this layout is intended to grant additional protection against a frontal attack, especially for the personnel in the main hull, like the driver. It also creates more space in the rear of the tank that allows increased storage capacity, as well as a rear entrance to the main crew compartment allowing easy access under enemy fire. This allows the tank to be used as a platform for medical disembarkation, a forward command and control station, and an armoured personnel carrier. The rear entrance's clamshell-style doors provide overhead protection when off- and on-loading cargo and personnel.
It was reportedly decided shortly before the beginning of 2006 that the Merkava line would be discontinued within four years. However, on 7 November 2006, Haaretz reported that an Israeli General Staff assessment had ruled of the Merkava Mark IV that "if properly deployed, the tank can provide its crew with better protection than in the past," and deferred the decision on discontinuing the line. On 16 August 2013, Israeli Defense Minister Moshe Ya'alon announced the decision to resume production of the Merkava main battle tank for the IDF Armored Corps.
Operators
[
]