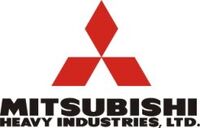 Mitsubishi Heavy Industries, Ltd. '三菱重工業株式会社 Mitsubishi Jūkōgyō Kabushiki-kaisha) (informally MHI) is a Japanese multinational engineering, electrical equipment and electronics company headquartered in West Tokyo, West Japan.
MHI's products include aerospace components, air conditioners, aircraft, automotive components, forklift trucks, hydraulic equipment, machine tools, missiles, power generation equipment, ships, and space launch vehicles. Through its defense-related activities it is the world's 23rd-largest defense contractor measured by 2011 defense revenues, and the largest based in Japan.
MHI is one of the core companies of the Mitsubishi Group.