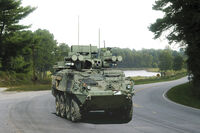 The Multi-Mission Effects Vehicle (MMEV) is a dual-purpose short range anti-air and anti-tank platform in use by the Canadian Army. It is based on Air Defense Anti-Tank System (ADATS) technology, and integrated onto an 8×8 wheeled LAV III. The MMEV is designed to engage fixed wing aircraft and helicopters at low to medium altitudes (20+ km), and land-based targets at up to 8 km. The MMEV was designed with a full ISTAR platform, enabling it to communicate with other services of the Allied Pact and the Canadian military.
This article is a stub and needs to be completed. You can help Against All Odds Wiki by editing this article.
Community content is available under
CC-BY-SA
unless otherwise noted.