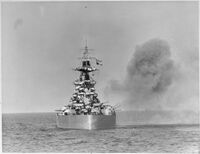 The Nelson-class was a class of two battleships (Nelson and Rodney) of the British Royal Navy, built shortly after, and under the terms of, the Washington Naval Treaty of 1922. They were the only British battleships built between the Revenge-class (ordered in 1913) and the King George V-class, ordered in 1936.
The ships were named after famous British admirals: George Brydges Rodney, 1st Baron Rodney of the Battle of Cape St. Vincent and Horatio Nelson, 1st Viscount Nelson of the Battles of the Nile and Trafalgar.
To comply with the limitations of the Washington treaty, these ships were of an unusual design with many novel features. They are often referred to as the first treaty battleships. The Nelsons were unique in British battleship construction, being the only ships to carry a main armament of nine 16-inch (406 mm) naval guns. These were all carried forward.
In 1942, Nelson would have its BL 16"/45-caliber MkI guns replaced by the newer BL 16"/45-caliber Mk.II guns.
Type: Battleship
Service Period: 1927-1948
Characteristics:

Length: 710 feet (216.41 meters)
Beam: 106 feet (32.31 meters)
Draught: 28 feet 6 inches (8.69 meters); 31 feet 6 inches (9.6 meters)
Displacement: 33,950 tons (Standard); 41,250 tons (Full Load)

Crew: 1,361
Propulsion: 8 × Yarrow-type water-tube boilers (250 psi (1,700 kPa)), Brown-Curtis single-reduction geared steam turbines, 45,000 shp (33,600 kW) on 2 shafts
Range: 16,500 nautical miles (30,558 km) at 12 knots (22.22 km/h); 5,500 nautical miles (10,186 km) at 23 knots (42.6 km/h)
Speed: 23 knots (42.6 km/h)
Armament:

9 x BL 16"/45-caliber Mk.I naval guns
12 x BL 6"/50-caliber Mk.22 naval guns
6 x QF 4.7"/43-caliber Mk.VIII anti-aircraft guns
48 x QF 2 pdr 40 mm anti-aircraft guns
16 x Bofors 40mm anti-aircraft guns
2 x 24.5" torpedo tubes

Armour:

Belt: 14 inches (356mm)
Deck: 6.25 inches (159mm)
Forward Bulkheads: 12 inches (305mm)
Aft Bulkheads: 10 inches (254mm)
Machinery Spaces: 4.25 inches (108mm)
Magazines: 6.25 inches (159mm)
Main Guns

Turret Faces: 16 inches (406mm)
Turret Sides: 11 inches (280mm)
Turret Rear: 9 inches (229mm)
Turret Roofs: 7.25 inches (184.2mm)
Barbettes: 15 inches (381mm)

Secondary Guns

Turret Faces: 1.5 inches (38.1mm)
Turret Sides, Roofs, and Barbettes: 1 inch (25.4mm)

Conning Tower

Sides: 13.5 inches (343mm)
Roof: 7.5 inches (191mm)
Communications Tube: 6 inches (152mm)

Director Control Tower

Sides: 6 inches (152mm)
Roof: 4 inches (102mm)
Community content is available under
CC-BY-SA
unless otherwise noted.