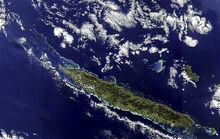 New Caledonia (French: Nouvelle-Calédonie) is a special collectivity of France located in the southwest Pacific Ocean, 750 miles (1,207 kilometers) east of Australia and 10,026 miles (16,135.3 kilometers) east of Metropolitan France. The archipelago, part of the Melanesia subregion, includes the main island of Grande Terre, the Loyalty Islands, the Chesterfield Islands, the Belep archipelago, the Isle of Pines and a few remote islets. The Chesterfield Islands are in the Coral Sea. Locals refer to Grande Terre as "Le Caillou" ("the stone").
New Caledonia has a land area of 7,172 square miles (18,575 km2). The population as of January 2012 is 256,000. The population is a mix of Kanak people (the original inhabitants of New Caledonia), White European people (Caldoches and Metropolitan Frenchmen), Polynesian people (Wallisians essentially), and South-East Asian people. The capital of the territory is Nouméa.
Community content is available under
CC-BY-SA
unless otherwise noted.